All our projectors are available for dry hire with collection from our Norwich City centre location on a day-by-day basis with considerable discount after the initial day. Projectors can also be hired as part of a delivered / installed hire providing they are hired with other equipment such as active speakers etc.
All Projectors Are Supplied With:
Carry Case & Power Cable
Short / Long VGA Cable
HDMI Lead (If Applicable)
Manual & Remote
If you need powered speakers to go with a projector we recommend the Alto 'Troupers' which can be found HERE.
–
BenQ 3200 ANSI Lumens 1080P Projector
We are pleased to welcome BenQ to our hire fleet in the form of MH530 DLP 1080p Projector, super-bright, sharp and colourful ideal for a wide range of modern applications.
This is ideal for the following: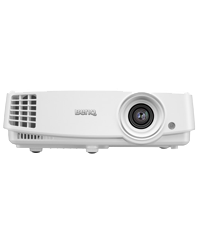 Presentations / HD Film Playback / 3D Film Playback
Small To Medium Business Meetings
Best In Darkened Environment
Specification:
Standard Throw Projector (No Zoom)
BenQ MH530 DLP 1080p
3200 ANSI Lumens
1080p (1920 x 1080) ?Native
Contrast Ratio?: 10000:1
Display Color: 1.07 Billion Colors
Inputs: HDMI, VGA, Component
2 Watt Speaker
Accepted Formats 1080i/720p/480i
*Available for Dry Hire and Delivery
–
BenQ TK800 Projector
True 4K HDR with XPR Technology
Vivid Colours and High Brightness for Ambient Light
Dedicated Modes for Football & Sports Enjoyment for Sports Fans
DLP Projection System
4K UHD (3840 x 2160) Resolution
3000 ANSI lumens
10,000:1 Contrast Ratio (FOFO)
30 Bits (1,07 billion colours)
Producing 4K UHD 3840×2160 resolution with 8.3 million distinct pixels for each frame with XPR technology, the TK800 utilises revolutionary 0.47" single-DMD DLP technology to minimise the sleek, compact profile for modern lifestyles. With four times the resolution of Full HD 1080p, 4K UHD reduces pixel blur for stunning clarity and crisply defined fine detail.
*Available for Dry Hire and Delivery

–
BenQ BlueCore Laser 8000 ANSI
lThe BenQ LU9715 BlueCore Laser Projector is the brightest choice for large venue applications. BenQ LU9715 delivers 8000 ANSI-lumen brightness and 100,000:1 contrast ratio for superior viewing experiences even under bright ambient lighting. The BlueCore laser engine provides significantly improved colour performance through a dual colour wheel system, support for 360° and portrait installation, and 24/7 operation for expanded application opportunities.
This is ideal for Large Venue Applications, Day & Night.
Specification:
BenQ LU9715 | BlueCore Laser
Designed for 24/7 Operation
8 Optional Lenses for Diverse Applications
8,000 ANSI Lumens – Laser Diode Source
1.07 Billion Colours
WUXGA Native (1920 x 1200 – higher than Full HD)
80″ – 500″ wide image
100,000:1
Massive Range Of Inputs
*Available for Delivery Only

–
Logitech R400 Wireless Presenter

Wireless presenter for presentations
Red Laser Pointer
Clear on most backgrounds
Range of 15 Meters
This wireless presenter is the perfect addition to your presentation, it includes a clear red laser which can be used on most backgrounds up to a range of 15 meters.
*Available for Dry Hire Only

–
Pull Up Projector Screen
Pull up projector screen
84″ Wide
Matte white finish
Light and easy to assemble
This screen is great for show stands as extremely stable, its also compact and comes with a carry case.
*Available for Dry Hire and Delivery

–
Front Projector Screen | 160″ (12Ft)
Will Fully Assemble The Screen
160″ (12Ft) Wide Angle Format
Ultra Light & Height Adjustable
Ideal For Public Meetings & Conference
Outdoor Cinema (Weather Permitting)
Front Projection Only
Although this screen is massive, it neatly packs away into a small box with wheels. Its great for public meetings, shows, cinema events and treating your staff to the football on the big screen. Combined with our 6000 ANSI ViewSonic projector this setup is great for corporate, public and special events that need a large viewing area for 100+ people. This screen will be fully installed and dismantled by our staff and is not available for dry hire.
*Available for Delivery only

–
Laptop/Projector Stand

Works flat (like a tabletop) or angled to almost any angle you could want
Top adjusts over 180° in angle
Height adjusts between 69cm and 115cm
At 405mm x 300mm, the top section is big enough for almost any laptop/projector
Recesses in the sides of the tabletop to allow for cables, allowing the item to sit flush on the top while ensuring the device cannot slip off the stand
28mm steel shaft, with 22mm steel telescopic section and legs.
At 3.1kg, they are very sturdy without being back-breakingly heavy.
You can use it as a portable table with the top flat for projectors, laptops etc for conference venues or as an angled stand to hold mixers, DJ laptops, iPad's and tablets.
The top section has strategically positioned openings on 3 of the 4 sides, to allow for cables to connect projectors and laptops etc while also stopping the device from sliding off the top.
*Available for Dry Hire and Delivery
–
HannsG | 23″ Free Standing Touch Screen
HannsG 23″ Touch Screen
1080p Resolution
LED Monitor
This Full HD LED freestanding monitor gives amazing visual clarity and can be used for events, conferences and more.
*Available for Delivery only
–
Philips 4K Ultra HD Screen | 55″
Philips 55″ Ultra HD Screen
4K Resolution
USB + HDMI input
Includes a Professional Screen Stand
The Philips 55″ ultra HD screen is perfect for promo events, private film viewings, corporate events and more. With its 4K resolutions, it is 4x the resolution of standard HD TVs and has multiple inputs including HDMI and USB. This TV will playback JPEG images and most video formats through USB via the on-board software. Please note you will need a laptop/PC in order to display presentations and will be delivered with a stand as necessary.
*Available for Delivery only
–
Philips 4K Ultra HD Screen | 65″
164 cm (65″)
900 Picture Performance Index
HDR Plus
Pixel Precise Ultra HD
Includes a Professional Screen Stand
Video Playback Formats
Containers: AVI, MKV

H264/MPEG-4 AVC

MPEG-1

MPEG-2

MPEG-4

WMV9/VC1

VP9

HEVC (H.265)
Picture Playback Formats
Please note you will need a laptop/PC in order to display presentations and will be delivered with a stand as necessary.
*Available for Delivery only
–
*Dry Hire – Item can be reserved & collected from our Norwich depot, booking must be 24 hours in advance of hire.
*Delivered – the item will be delivered and set up by our engineer, all leads cables fixtures and fittings will be supplied, booking must be 48 hours in advance of hire.